After a lot of brainstorming, hard work, and feedback over the last year, we're beyond proud and elated to finally announce the launch of the NEW MaxBounty!
By 'The New MaxBounty' we mean a complete front to back redesign of our website. This includes both pre-login pages, and the affiliate dashboard user interface that all MaxBounty affiliates have access to. Not only does this mean a visual overhaul of the interface, but we optimized and added features to ensure you have as many tools as possible to help you promote campaigns successfully.
We thought we'd go over a few of the new features you'll come across if you're an affiliate with us, or if you're planning on becoming one in the near future (which we highly suggest). Perhaps seeing what we have in store may even increase your desire to work with us. We've also provided some screenshots with each feature so that you can follow along and know where each one is located.
Affiliate Dashboard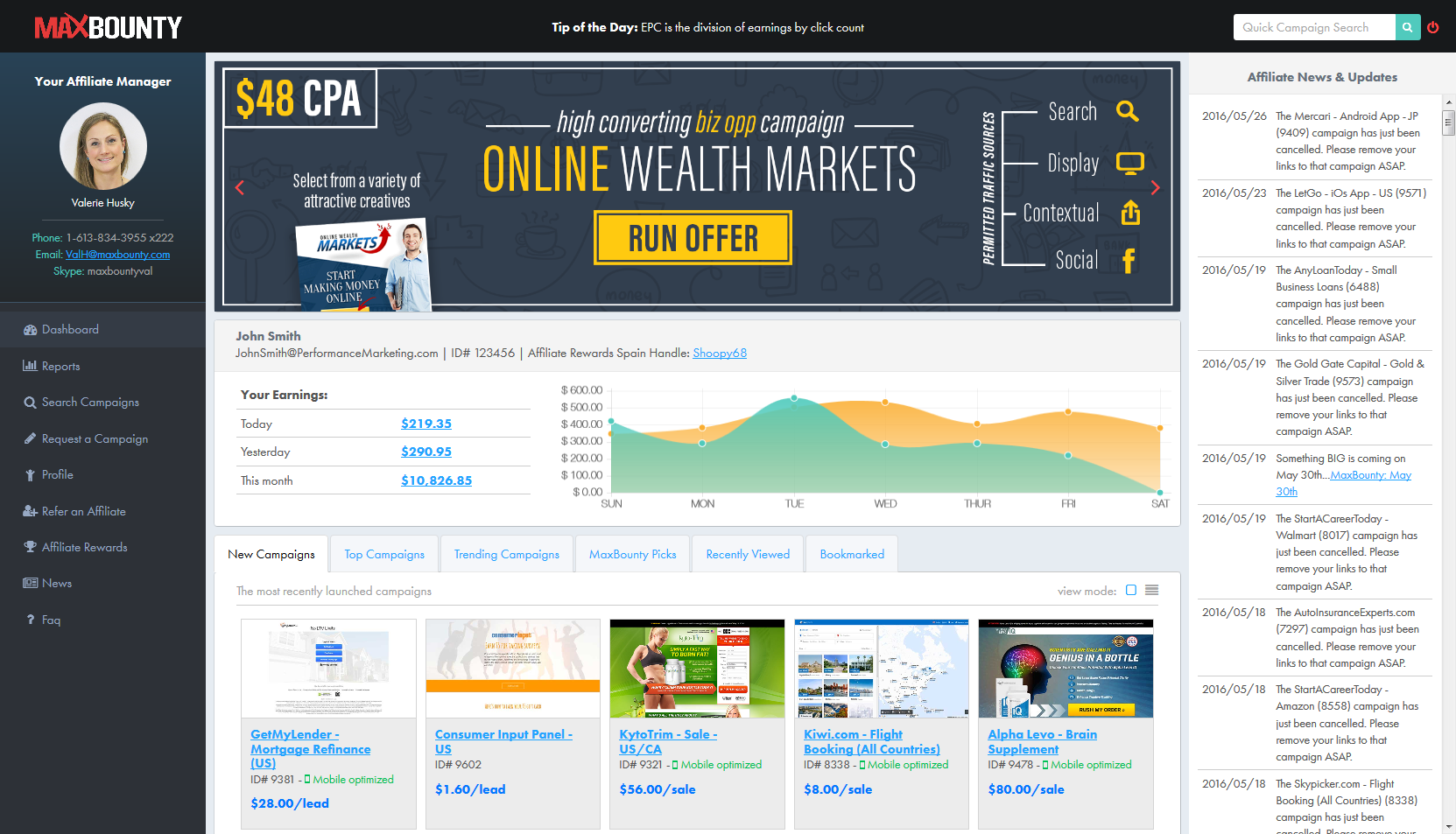 Upon logging in to MaxBounty, you'll quickly notice a number of new interface elements to the affiliate dashboard. Here you'll see information regarding your Affiliate Manager, a quick shot of your recent earnings, various campaign lists, as well as news and updates to the right. The new dashboard is designed to provide you with the important information that you require the quickest, to make sure your time spent in the network is done so as efficiently as possible.
Campaign Categorization and Browsing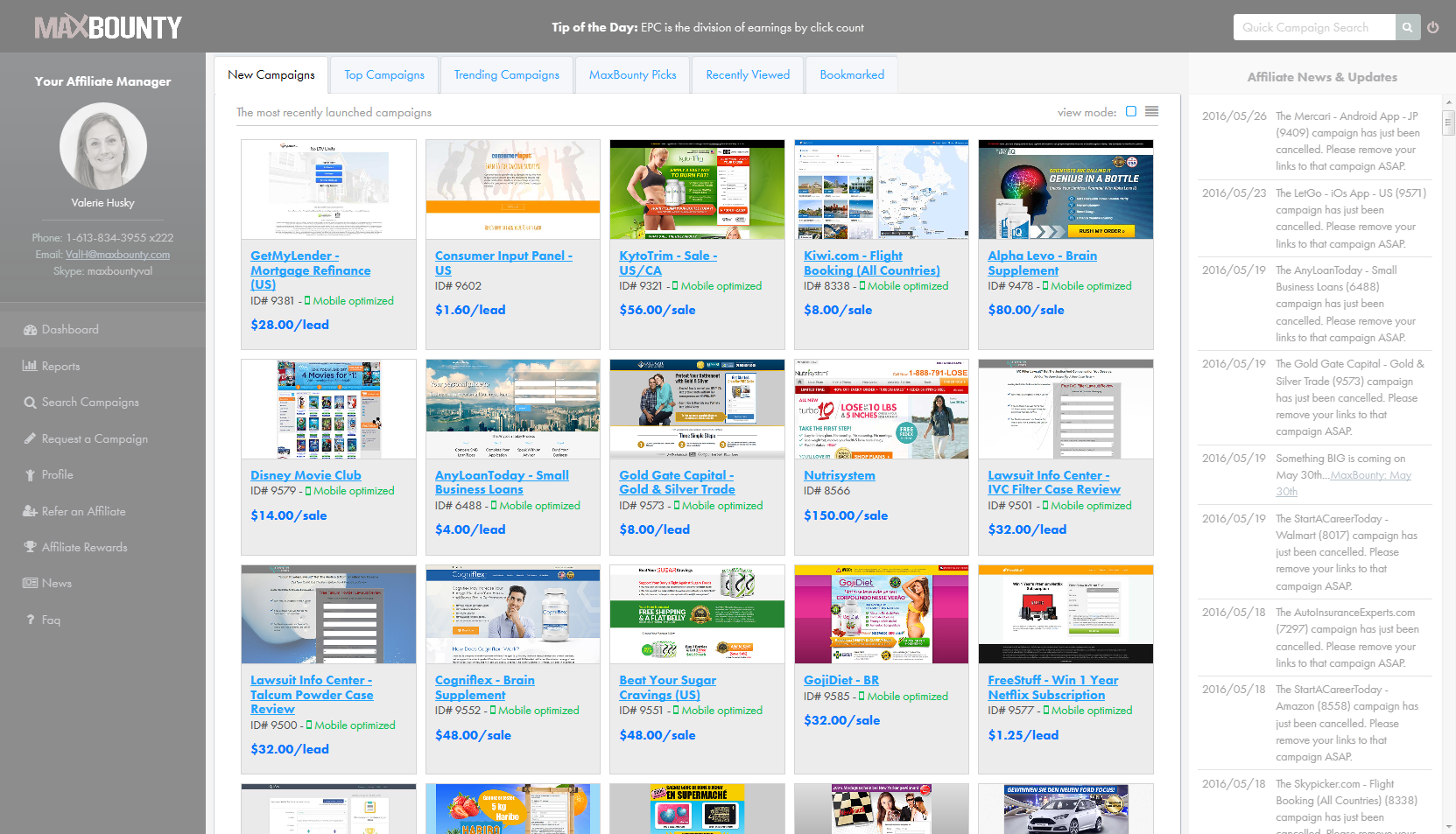 You'll be able to sort, search, and find the optimal campaign you're looking for easier than ever with our new campaign browsing system. Whether you're searching for new campaigns, top converters, or an offer you've recently viewed, we've made sure you'll find it quickly. Every offer also has its own landing page screenshot automatically displayed, giving you a better preview of the campaign without even having to click on it.
In Depth Reporting
We've revamped the way you see your stats and earnings, allowing you to view more information to give you a better idea of how well your campaigns are doing. The visual overhaul means you'll also be able to analyze this information more quickly than in the previous version. Additional features such as the ability to provide 5 pieces of user sub-id instead of only 2, means you'll be able to understand and target your audience like never before.
Below you'll see a graph that will automatically compare your earnings for this week to last week, with additional sort-able stats for each campaign listed below that.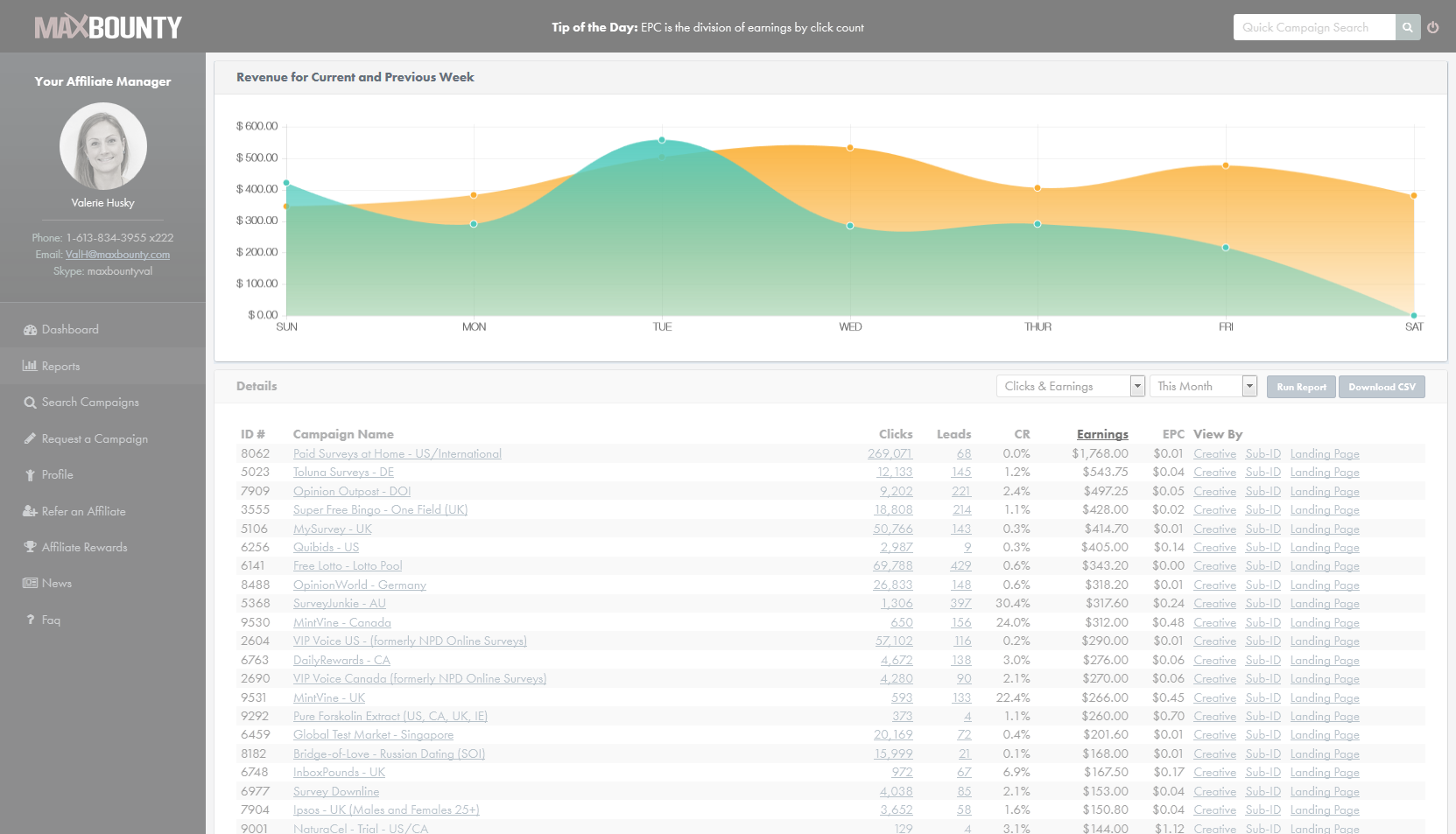 Clicking on the 'Landing Page' option to the right of the campaign as seen below, will bring you to another new feature we've added.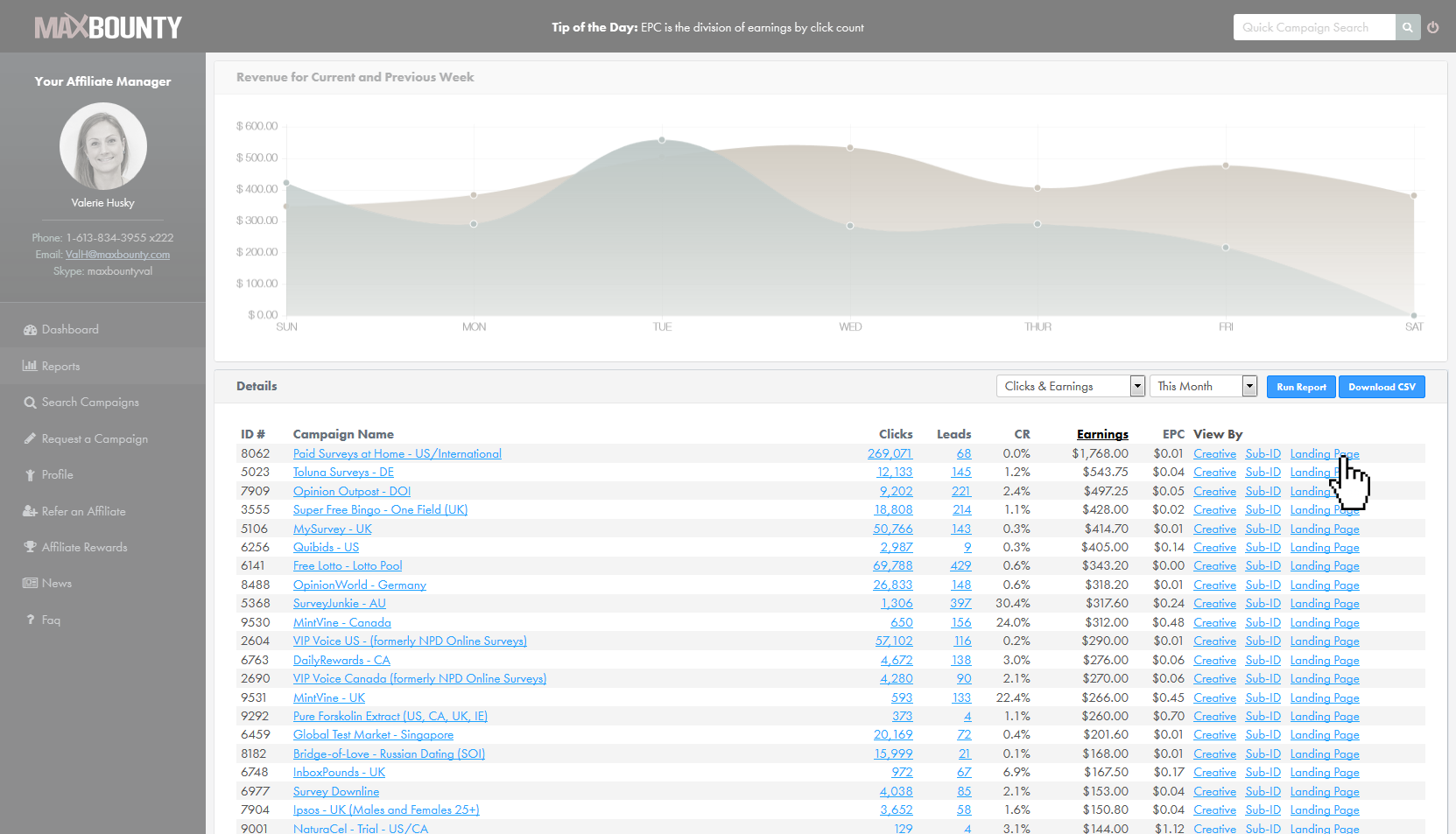 For campaigns with multiple landing pages, you'll now be able to see how well each specific landing page is converting. We know how important testing and optimization is when running any campaign, so this feature was implemented to provide you with another way to do just that.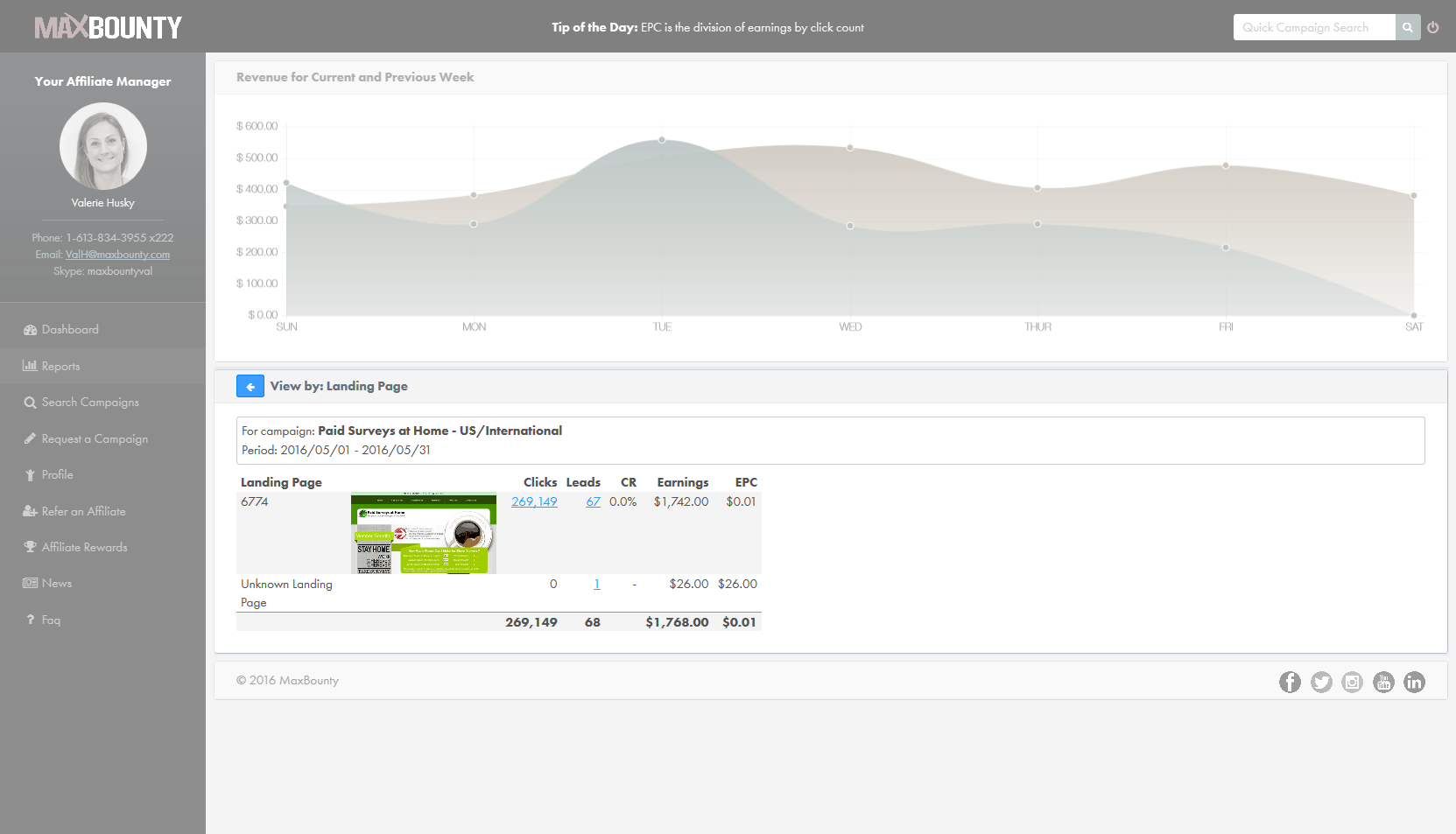 Customizable Tracking Links
This new feature will allow you to customize your tracking link depending on the specific landing page you select for an offer. This gives you the affiliate more freedom to choose between which style of creative you'd like users to be tracked and directed to.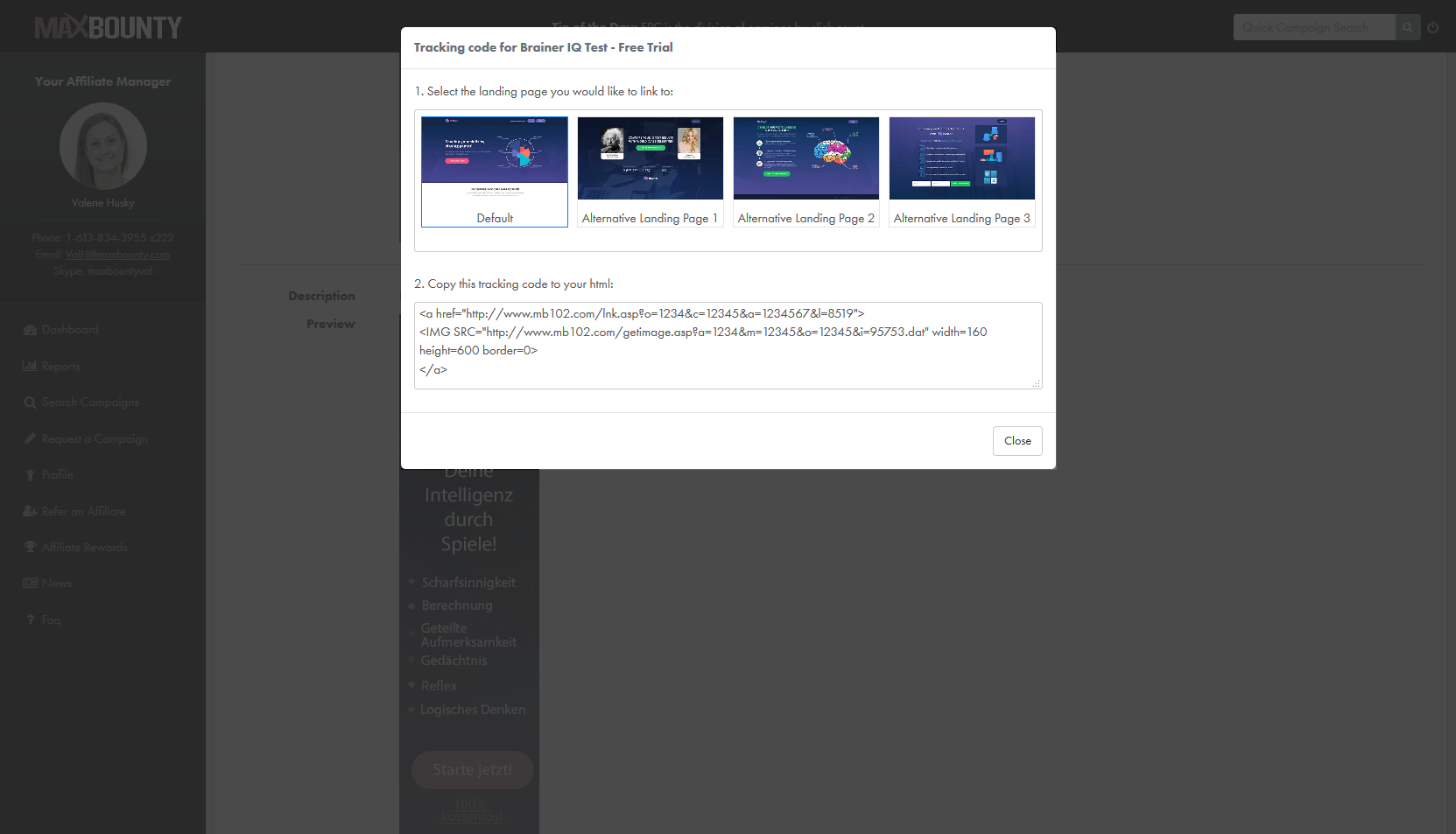 Requesting Campaigns
Here you'll able to request specific campaigns that you'd like to see at MaxBounty. Are you running a campaign somewhere else but would prefer to do so with us? Let us know what it is and we'll do whatever we can to make it available in our network. This simple feature will allow us to improve our offer base while providing you with more of what you're looking for.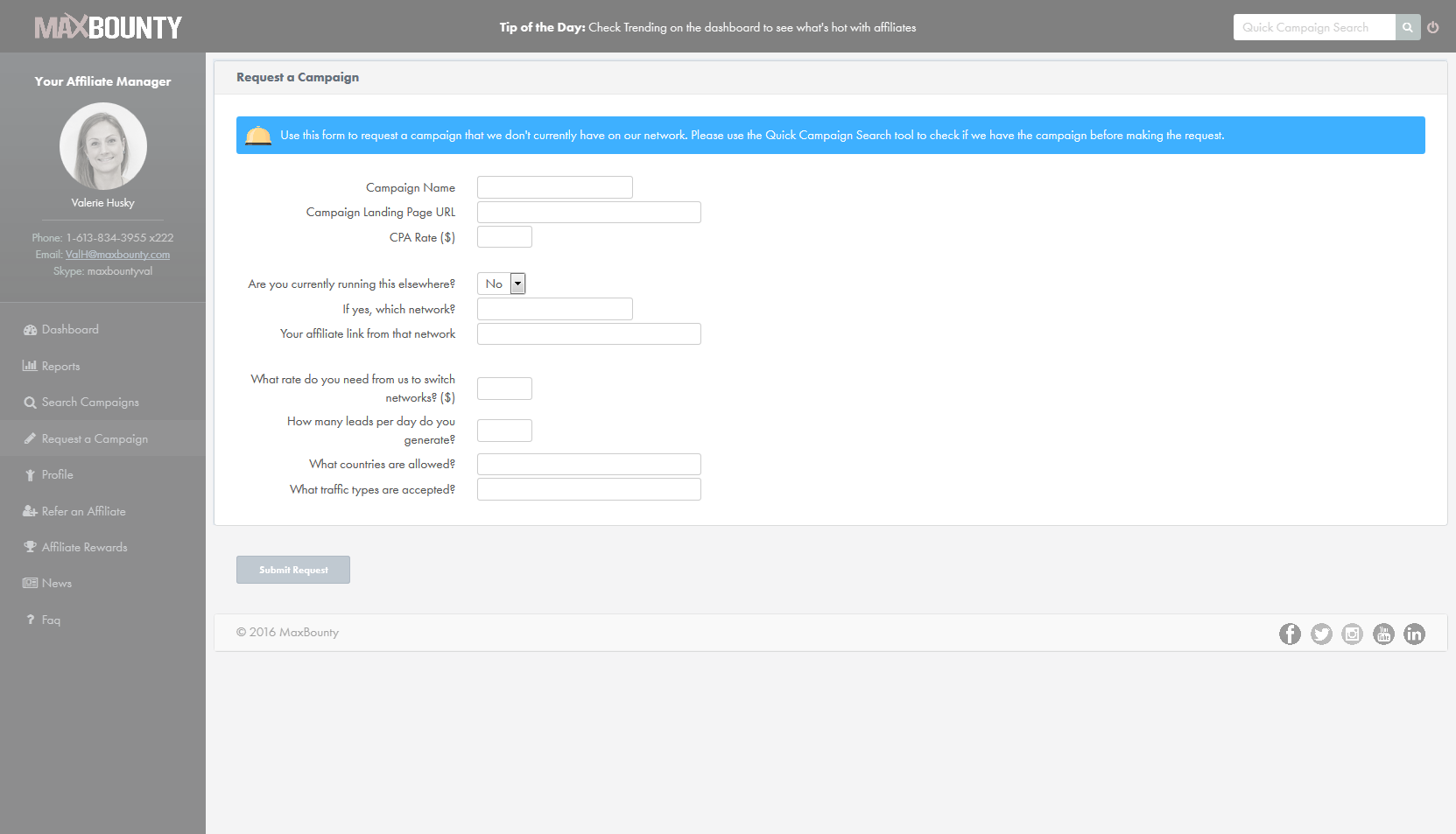 Built in News and Updates
Being notified of campaign information, promotion and event updates, industry news, and other MaxBounty related tidbits will now require no navigation outside of the dashboard. This area is in theory our new blog, but is designed to deliver you that same useful information in a quicker and more digestible format. If there's an important promotion going on at MaxBounty that could earn you bonuses or prizes, you can find it all within our 'News' section, located on the left side panel of the dashboard.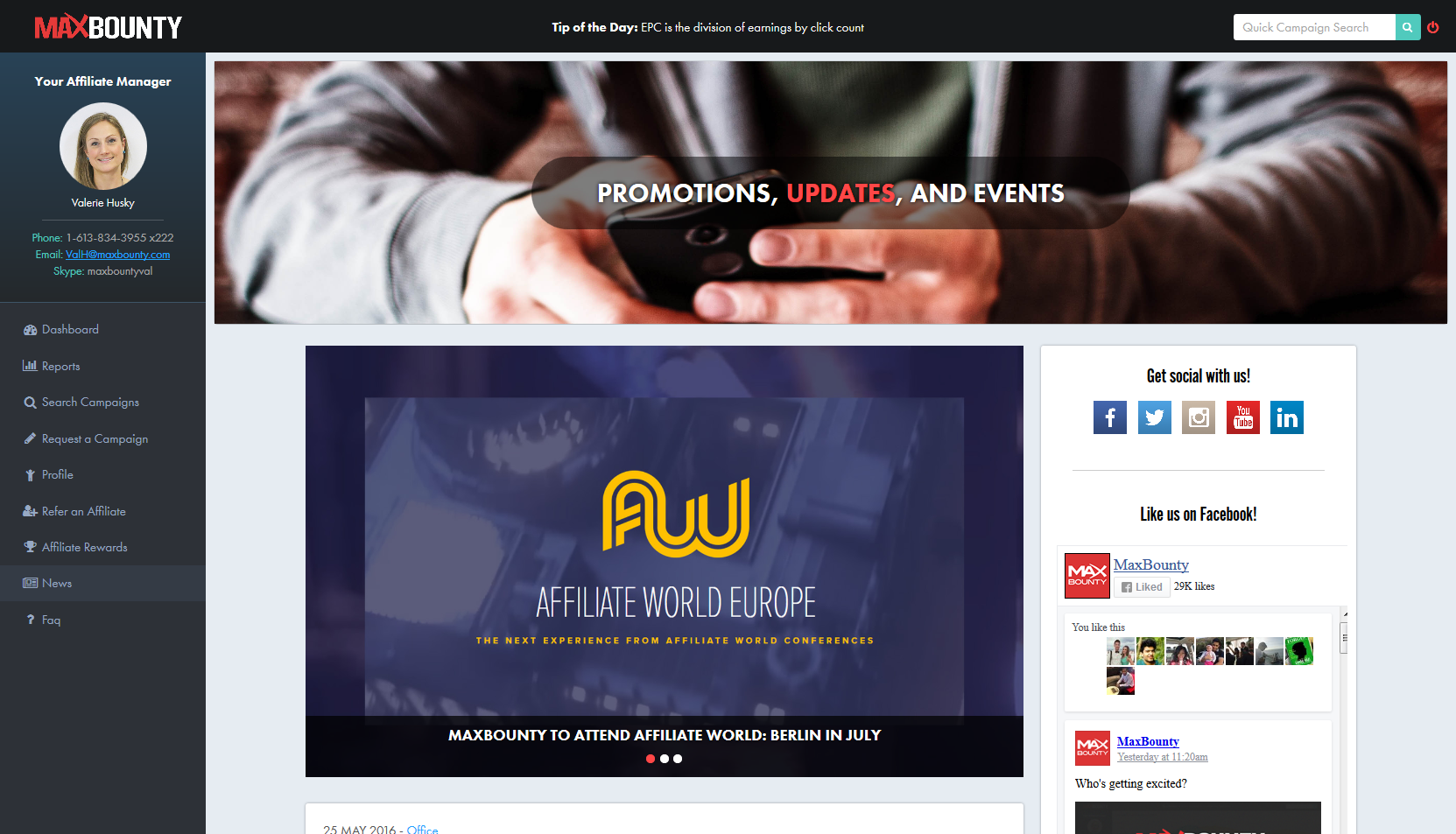 There's a lot of other new components to the site that you'll inevitably come across as you get used to the new design. Hopefully this post provides a bit of insight on some of the ones we think are the most important, and where you can find them.
To say that we're excited to finally have all of our affiliates using the new interface would be an understatement. Hopefully you quickly become just as excited once you take a look around and see all the new features that are aimed to improve your experience with us.
Here's to the NEW MaxBounty!